Providing Your Luxury Vinyl Planks in Linton, IN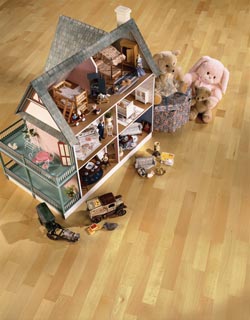 If you're ready to update your flooring, consider a classic wood look with modern appeal. You can have timeless beauty, tough surfaces, and total control of your home's look with luxury vinyl planks in Linton, IN, from Flooring America. We are the area's premier supplier of upscale flooring, and we pride ourselves on our diverse inventory. When you shop at our showroom, you can make your project a success with enough options to suit any vision.
You won't have to do it alone, however. Our knowledgeable team members are here to help you with everything from picking out your ideal material to buying an attractive area rug to accentuate your new surface. We provide comprehensive support for your entire shopping experience, and we can even advise you when it comes to luxury vinyl plank floor installation.
A Plethora of Plank Options
Before you can install, you'll need to make sure you have the right style, color, and brand for your needs. Every product in our showroom was selected for its superior quality and ability to offer practical advantages for our customers. From luxurious comfort to exceptional ease, our vinyl gives you everything you need to enjoy your daily life on a stunning surface.
Because vinyl uses high-resolution textured surfaces to achieve its look, you can get the same functional benefits without having to limit your options in terms of style. Exactly what advantages does a luxury vinyl plank floor offer? Here are just a few:
Waterproof Protection — Want a wood look in a room that's too moist for natural flooring? No problem! Our vinyl repels water, making it ideal for spill and splash zones across the house.
Contemporary Comfort — Vinyl's most unique strength is its combination of manufactured resilience and authentic, organic-looking beauty. While your floors will look like real wood, they'll be softer underfoot than most hard surfaces. Planks also provide greater insulation and soundproofing than sheet vinyl or laminate.
Advanced Adaptability — When you are ready to install your brand new LVP floor, our products make the process easy. You can place them over virtually any surface, and even on top of existing tile, saving time and money by forgoing the usual need for removal.
The Place to Go for Great Service
Ready to update and refresh your space? Visit our showroom! We'll help you maximize the benefits you get from your vinyl, find a product that fulfills your vision, and take advantage of our current offers. Still need to know more? We can help there, too. Find answers to all of your questions and concerns with guidance from our seasoned surface professionals.

Contact us today for further information about vinyl planks or any of our other luxury flooring options. We proudly serve Linton, IN, and the surrounding communities.